Plant-O-Rama, Horticultural Trade Show & Symposium
Plant-O-Rama
THANK YOU to all of our SPONSORS, EXHIBITORS & ATTENDEES at PLANT-O-RAMA 2015… especially with the 2-day snow delay.
SPECIAL THANKS to the hundreds of METRO HORT GROUP & BROOKLYN BOTANIC GARDEN VOLUNTEERS who help stage PLANT-O-RAMA. It takes a village!
READ the February 5th Plant-O-Rama feature by The New York Times garden writer Anne Raver.
Asking More of the Landscape: Planting with the birds, the bees and the butterflies in mind. By ANNE RAVER.
Home & Garden - The New York Times - mobile-friendly link
LISTEN to audio recordings of the talks by POR speakers Doug Tallamy & Ruth Clausen.
Courtesy of Heritage Radio Network.
Ruth Clausen audio recording
Doug Tallamy audio recording
DOWNLOAD & PRINT the speaker handouts and exhibitor directory:
Ruth Clausen slide list
Doug Tallamy handout
Exhibitors Directory
PLANT-O-RAMA HAS BEEN RESCHEDULED FOR THURSDAY, JANUARY 29TH.
THE PROGRAM REMAINS THE SAME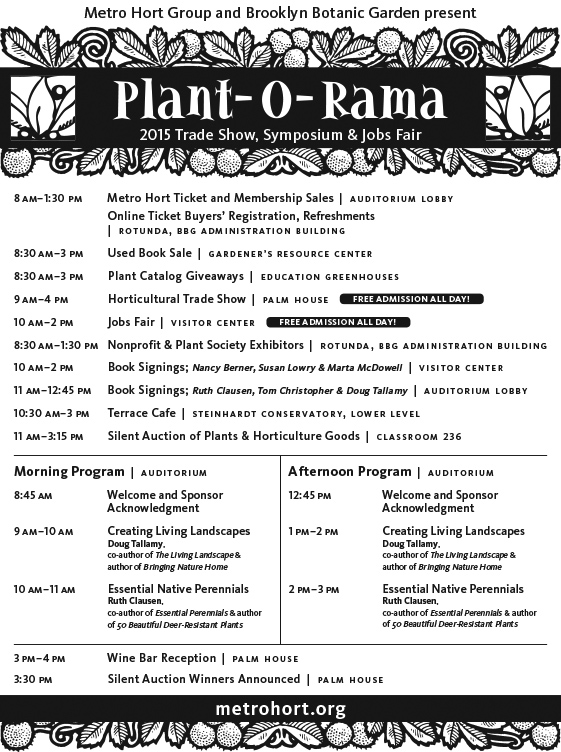 PLANT-O-RAMA is a 1-day TRADE SHOW, SYMPOSIUM, and JOBS FAIR featuring New York, Long Island, New Jersey, and Connecticut green industry companies promoting plants, products, and services to horticultural professionals in the New York City tri-state region.
Plant-O-Rama takes place SUN, RAIN or SNOW. There is NO cancellation.
2015 PLANT-O-RAMA SPONSORS
• Town and Gardens, Ltd. (lead program sponsor)
• Heritage Radio Network (media sponsor)
• Stone Park Café (closing reception sponsor)

• Anthony Bulfamante Landscaping, Inc.
• Bartlett Tree Experts
• The Garden Dept.

• Atlantic Nurseries, Inc.
• Brooklyn Plant Studio
• Carl Schurz Park Gardening Volunteers
• Green Mountain Energy
• The Horticultural Society of New York
• Landcraft Environments, Ltd.
• Lifesource Irrigation
• Parks Volunteer Coordinators Roundtable of NYC
• Rosedale Nurseries, Inc.
• Semperflorens
SYMPOSIUM REGISTRATION
Speaker sessions are SOLD OUT. Online ticketing is CLOSED. There may be limited seating at the door for no-shows.
DON'T STAY AWAY. There's lots to see & do at PLANT-O-RAMA if you are closed out of the talks. And it's all FREE! 40 TRADE SHOW Vendors, 20 NONPROFIT Exhibitors, 30 JOBS FAIR recruiters.

SYMPOSIUM SPEAKERS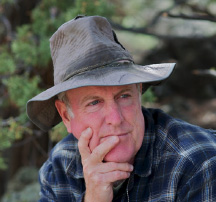 Doug Tallamy, Creating Living Landscapes


Once you have persuaded clients to share the garden with other species, how do professional horticulturists and landscape designers go about doing that? Can we bring life into urban areas? Can we reconstruct complex food webs in gardens? How can we get more native plants into the landscape without it looking wild and messy? Will living landscapes be more prone to insect damage and vermin? Are they higher maintenance? Tallamy will answer these questions and more to help you design and maintain gardens and landscapes that are a fascinating part of nature. Tallamy co-authored with Rick Darke the 2014 book The Living Landscape and the best-selling 2007 book Bringing Nature Home.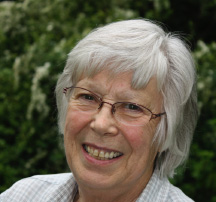 Ruth Clausen, Essential Native Perennials


What native perennial species and nativars are "must-have" in your garden designs? Clausen was co-author of the definitive reference guide, Perennials for American Gardens, published in 1989. Twenty-five years later, Clausen and co-author Thomas Christopher, have updated that work in Essential Perennials that highlights 2700 perennials for the home garden. This book will be published in January 2015 just in time for sales and author signings at Plant-O-Rama. In her talk, Ruth will highlight native perennials harvested from the new book and help you decide exactly which plants will bring the beauty you want, thrive in the conditions you can provide, attract beneficial wildlife, and contribute significantly to complex food chains.
2015 PALM HOUSE TRADE SHOW EXHIBITORS
9:00am - 4:00pm; FREE ADMISSION all day, NO preregistration.
40 green industry exhibitors in Brooklyn Botanic Garden's Palm House. Exhibitors include wholesale growers, pottery distributors, connoisseur mail-order and retail nurseries, soil specialists, arborists, and horticultural suppliers.
• Atlantic Nurseries
• A.D.R. Bulbs
• Bartlett Tree Experts
• Barton Nursery
• Beds & Borders
• Bissett Nursery
• The Care of Trees
• City Tree Guards
• Cricket Hill Garden
• Colorblends Wholesale Flowerbulbs
• Compostwerks
• Curb Allure
• David Shannon Florist & Nursery
• Dragonetti Brothers
• Dutch Grown
• The Garden Dept.
• Glover Perennials
• Green Mountain Energy
• Groundworks, We Dig Plants
• Half Hollow Nursery
• Henry Leuthardt Nurseries
• Hicks Commercial Sales
• The Horticultural Society of NY
• Landcraft Environments
• LifeSource Irrigation
• Long Island Compost Corp.
• McEnroe Organic Farm
• MONROVIA
• New Moon Nursery, LLC
• North Service Nursery
• Otto Keil Florist/Emmas Garden Growers
• Peat and Son Nursery
• Pennoyer Newman
• Peony's Envy
• Planter Resource
• Pleasant Run Nursery, Inc.
• Rarefind Nursery
• Seibert & Rice
• Trees on the Move
• Tri-State Flexi-Pave
2015 JOBS FAIR EXHIBITORS
10:00am-2:00pm; FREE ADMISSION, NO preregistration.
Perfectly timed for the 2015 hiring season, the Jobs Fair marketplace includes NYC nonprofits, regional parks and gardens, nurseries, landscape design, install & maintenance companies, and tree experts. or post your own. For more info: Rebecca McMackin, Director of Horticulture, Brooklyn Bridge Park; rmcmackin@bbpnyc.org; 718.724.6439
• Anthony Bulfamante Landscaping
• Atlantic Nurseries
• Bartlett Tree Experts
• The Battery Conservancy
• Barton Nursery
• Blondie's Treehouse
• Broadway Mall Association
• Brooklyn Botanic Garden
• Brooklyn Bridge Park
• Carl Schurz Park Conservancy
• Central Park Conservancy
• Dragonetti Brothers
• Elevations Urban Landscape Design
• Greater Newark Conservancy
• Greener by Design
• Green-Wood Cemetery
• Hudson River Park Trust
• John Mini Distinctive Landscapes
• MERBS Fine Gardens
• MONROVIA
• NYC Department of Parks & Recreation
• New York Restoration Project
• Queens Parks Department
• Randall's Island Park Alliance
• Summerhill Landscapes
• Urban Explorations
• Town and Gardens
• Vert Gardens
NONPROFIT & PLANT SOCIETY EXHIBITORS
8:30am - 1:00pm; FREE ADMISSION, NO Preregistration
• Brooklyn Botanic Garden - GreenBridge
• Department of Environmental Conservation
• Greater Newark Conservancy
• Greenbelt Native Plant Center
• Greenwood Gardens
• Indoor Plant Society
• Madison Square Park Conservancy
• The Native Plant Center
• North American Rock Garden Society, Manhattan Chapter
• New York Botanical Garden
• New York City Housing Authority Gardening & Sustainability Unit
• New York Restoration Project
• Stonecrop Gardens
• Trees New York
• Untermyer Gardens Conservancy
• USDA – Asian Longhorned Beetle Program
• Wave Hill
CALL FOR VOLUNTEERS:
Plant-O-Rama is driven by many volunteers in a variety of jobs. We need your help!
For more info: Pamela Moulton, pamelamoulton@mac.com; 212.749.6922 (home); 646.808.7560 (voice or text)
FOR ADDITIONAL INFO:
Bob Hyland, Plant-O-Rama manager
518.929.0699; bobhyland50@gmail.com
Jeanne Rostaing, coordinator
347.633.3508; jeannerostaing@gmail.com